We currently have a fantastic opportunity for teenagers in Kilkenny. Our aim is to get teenagers active and enjoying it- we want to get the young people of kilkenny active and enjoying it!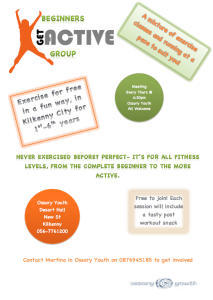 Beginners Get Active Group is a free exercise hour for teenagers in Kilkenny City.
We meet every thursday from 4:30pm-5:30pm in Ossory Youth. For teenagers from 1st year-6th year. Whether your a true beginner or looking to improve, the Get Active Group will have something for you. Get fit and toned in a fun and supportive way!
With a mixture of running, exercise classes and toning along with a tasty and healthy snack, your thursday workout will be just what you need to feel great inside and out!
For more info contact Martina via mmaher@ossoryyouth.com, call on 0567761200 or just come along on thursday! All newcomers are welcome.