Each youth club was invited to select two young people to take part in a training residential to be their clubs young leaders and programme promoters.  It was important that those selected were energetic, enthusiastic and would motivate other youth club members. Eleven young people set off on Wednesday 28th October at 9am to Kippure Adventure Centre, Wicklow.
The role of a programme promoter is to be a leader and a role model in their club. They will be members of the committee and sit in on planning and evaluation sessions. They will represent the views of their members, promote activities and encourage other members to get involved. They will also link in with their mentor in their club and Ossory Youth to keep up updated on what their club are doing and planning.
Upon arriving in Kippure we got settled into our accommodation, got some lunch and got stuck in, heading straight for the climbing and abseiling tower! If that wasn't enough to unsettle the recently devoured lasagne, then the leap of faith; a tall wobbly platform 30ft in the air with a giant leap to a suspended trapese bar would do the trick! things got really competitive then with the challenging low ropes course and archery. (There wasn't exactly a Robin Hood amongst us)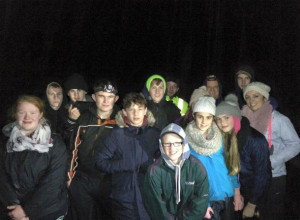 After dinner we started our first workshop, where we learned about team work and communication. We also worked on devising project/activity ideas, planning and evaluating. The group used their new skills to work on ideas for their community project.
We all got wrapped up warm and headed on a nighthike where we were told spooky ghost stories and explored the grounds of Kippure, all very scary at night!
The next morning after breakfast we began our second workshop. After more team challenges we learned about all the activities and projects that youth clubs can get involved with through Ossory Youth. Each club gave a presentation on their ideas for community projects. We were so impressed with the ideas, which were well thought out and would be fantastic additions to their community. we looked at what the programme promoters would need form their youth clubs to make their job easier and wrote articles about what each club was doing and planning.
After the evaluation was completed a very tired but happy group set off home to Ossory Youth.